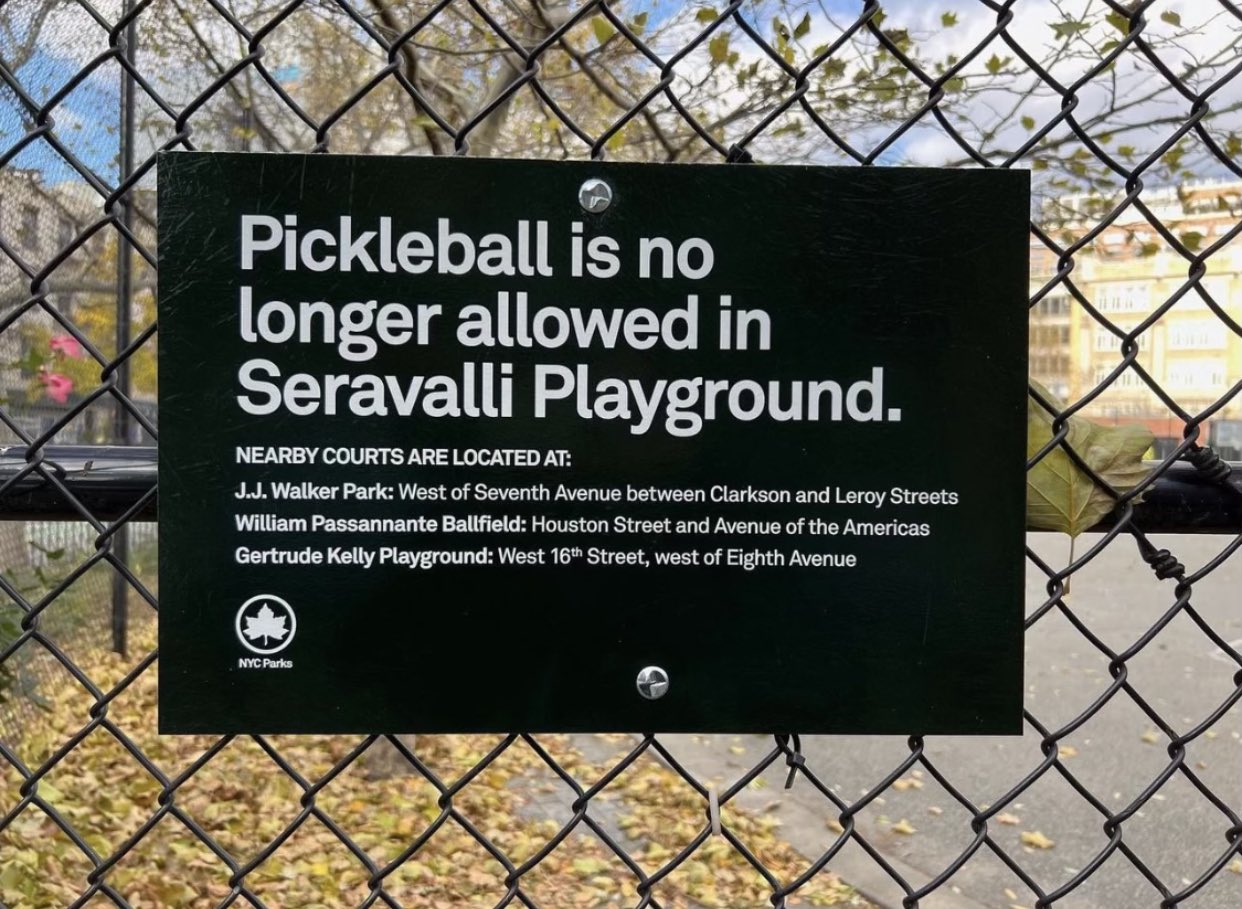 City Takes Action Against Pickleballers
In a not-so shocking turn of events, the situation at the West Village Pickleball courts in New York City reached a boiling point last week.
The conflict began when the pickleballers, whose sport has been gaining in popularity in recent years, began to encroach on the traditional turf of wealthy west village parents and their children. Videos such as this one show pickleballers playing elbow-to-elbow with the local youth; their watchful parents close by. The situation came to a head on Wednesday, November 30th, when parks department employees power-washed the spray-painted courts at Seravalli park in the West Village.
Given the high profile nature of this conflict, local and state politicians were almost certainly involved in the decision to remove the courts. The pickleballers have accused the other side of being elitist and out of touch with the changing times. Accusations of privilege are lobbed back by the parents. However, not all local paddle and racket enthusiasts were dismayed:
DIRECT ACTION GETS THE GOODS pic.twitter.com/uFCnwE002v

— Club Leftist Tennis (@ClubLeftTennis) December 1, 2022
With such limited space, especially in the borough of Manhattan, any new sport is going to be viewed as disruptive by existing park-goers. Although the outcome of this conflict is still unresolved, one thing is clear: These New Yorkers will need to find a way to co-exist.
While it remains to be seen if the two sides can come to an agreement, pickleball continues to grow at a rapid clip in the U.S., now boasting almost 5 million players. With the entrance of Lebron James and Tom Brady into the Major League Pickleball scene, it is fair to say that this American recreational sport has finally found a significant foot hole in the collective conscience.